Here you will find many photographs of a growing AK Bayonet collection
Included is information where it helps explain the bayonets
This is a never ending project, so you will find portions that are incomplete or missing, we will add to this as we are able
This video is a place to start, Kalashnikov Bayonet Collecting – Intro
Our website attempts to answer questions, but please feel free to ask on Gun Channels.com
---
Use the menu at the right side of each page as a guide, get Martin Ivie's book and then start buying some AK bayos, it's a fun hobby / collection, you'll find them all over once you know what to look for and your collection can grow quickly and fairly inexpensively until you start to acquire the rare variants and models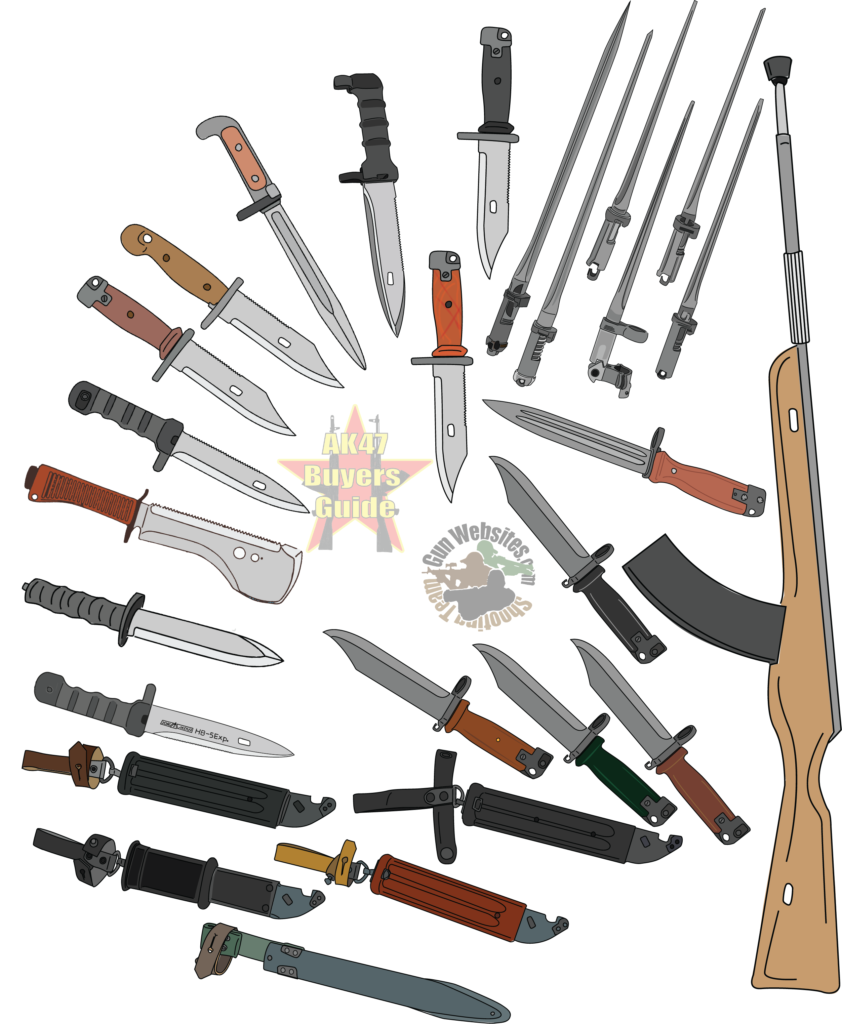 ———————-
It all started in 2004 when I bought these 11 bayonets from a guy at a Tucson gun show (He would become a friend over the years).
I told him I wanted to start a collection of AK47 bayonets, he sold me this nice selection (for around $250,IIRC) and pointed me to a book.. written by Martin Ivie about these bayonets. He had a copy to show me, but he wasn't selling it.
I found a copy for sale here in town, and as I was looking for more bayonets and Martin's book, I was pointed to a "Group of AK guys" loosly based out of Tucson
I later found out Martin was also a member of the AK Collectors club I joined, called the KCA (Kalashnikov Collectors Association)
Once I met Martin, in 2005, and became friends with the rest of the KCA guys, I was hooked, and I never stopped buying bayonets. I find them at gun shows, of course, but also many gun shops have them tucked away (ask), flea markets, I found a bunch of rare polish bayos at the 2009 NRA show (a trade show, not a sales show), being sold for $11 each ?!?!
The collection grew as has this website to feature and explain the hobby. I have met in person and via web-forum, most of the major AK Bayo collectors in the US, and a few elsewhere. They are all a good bunch and a great resource,there is really no way to grow a big collection without help of other collectors. We all stay in touch on a few places online, which change overtime quite a bit
Very few of the bayonets cost a lot individually, so you can jump in at any level and get a very cool and complete collection for under $100 easily
My collection has grown past the point of easy display until I devoted an entire wall to it. Now it looks great, I can enjoy every one of them, and I can grab any of them and compare them to any other. We will show off other peoples collections too. Contact us to share yours
Russian AK47 Bayonets
Bulgarian AK47 Bayonets
Chinese AK47 Bayonets
German AK47 Bayonets
Egyptian AK47 Bayonets
Hungarian AK47 Bayonets
Korean AK47 Bayonets
Cuban AK47 Bayonets
Indian AK47 Bayonets
Iraqi AK47 Bayonets
Polish AK47 Bayonets
Romanian AK47 Bayonets
Yugoslovian AK47 Bayonets
(Visited 2,864 times, 6 visits today)