Designated: Modell 47
195? – "Modell 47" AK47 Type Adopted in Germany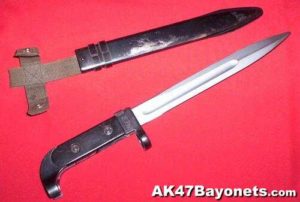 East German AK47 Bayonets
Chapter Two, cont.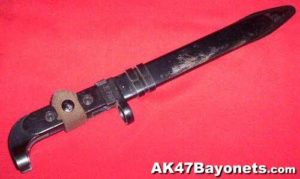 The East German variation of the AK47 type bayonet is unique in that the scales on the handle of the knife are black plastic rather than some variation of red, reddish brown or brown plastic as found on those from other countries. When serial numbers are present they are pen engraved on the left side of the crosspiece. The East Germans designated this bayonet the "Modell 47".
The bayonet in Figure 12 is a typical East German AK47 bayonet. The hanger is different than those found on the Russian bayonets in that it is made entirely of web material including the keeper. The hanger color and material vary from white to gray to gray-green to olive green cotton web and has also been observed in light gray nylon web. The belt loop of the hanger is sewn closed rather than riveted. Also, the keeper is sewn to the belt loop and it is closed with a snap rather than a thorn and slot.
Perhaps the most unique part of the East German AK47 type bayonet is the scabbard. The scabbard comes in three distinct variations. All of the variations are blued steel.
Figure 12. Typical East German AK47 Bayonet, Front and Back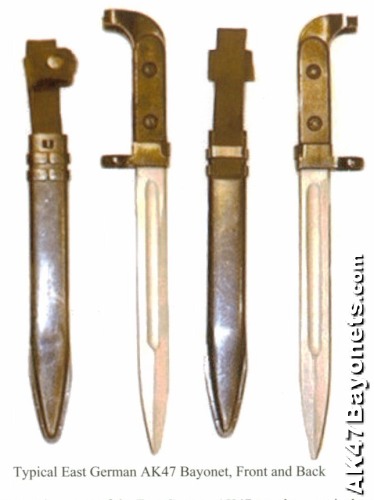 From Page 13 Kalashnikov Bayonets
© 2002 by Martin Ivie
Reprinted with permission of the author
(Visited 91 times, 1 visits today)